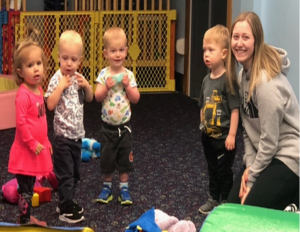 Free Play with the Climbers!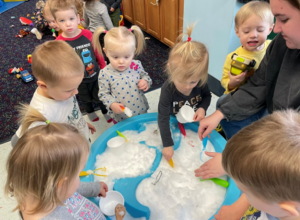 Fun afternoons playing in bubbles!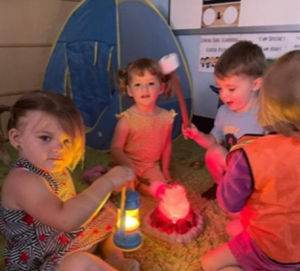 The Explorers enjoying a nice campfire!
Introducing our Toddlers
Age appropriate activities are very important to us at Loving Care. Our toddler room is divided into two separate age groups to ensure that such activities take place.
Climbers!!
12 months-18 months
 Your child is ready to begin the exciting transition from infant to toddler!!  We begin this transition at around 12 months for a few important reasons:
1.  It is difficult to give our littlest ones the necessary amount of floor time when our toddler children are climbing and learning to walk around the room.
2. Important gross motor and outdoor play will be implemented into their schedule in the Climbers room.
3. While in this room, your child will slowly begin the transition from crib to cot and from highchair to table.  Also, there schedule will consist of one afternoon nap (unless a parent requests a morning nap) and scheduled snacks and meal times.  All of these will help prepare them for the Explorers room!
4. Our teachers are implementing a curriculum that will include simple art projects to develop fine motor, sensory time, and gross motor activities to engage their minds and bodies.
Explorers
18months-2 1/2 years
Your child is ready to join our older toddler group and begin their foundation for preschool!!  We begin this transition at around 18 months for a few important reasons.
1. Many of our Explorers are ready to begin potty training, and with an onsite restroom and scheduled potty times, we work our hardest to aide with this process!
2. Mini circle times are apart of our morning routine to begin expanding the little ones' attention spans.  This includes calendar, who's here?, stories, songs, and their weekly focus.
3. Play-based centers, daily art projects, gross motor games, fine motor activities, and encouraging independence are just a few of the ways we help to prepare these boys and girls for preschool.
Please feel free to call anytime for additional information or to set up a tour!